VP encourages PHRI to innovate over coronavirus outbreak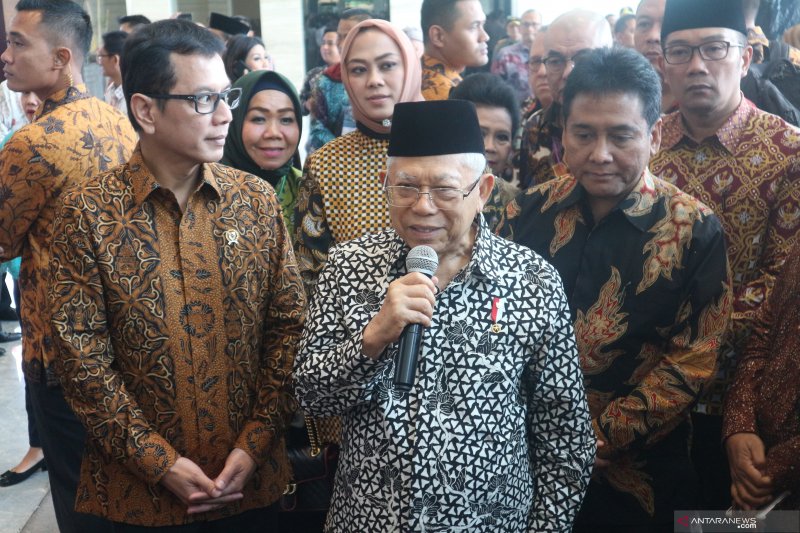 Jakarta (ANTARA) – Indonesian Vice President Ma'ruf Amin encouraged the Indonesian Hotel and Restaurant Association (PHRI) and tourism sector stakeholders to continue to innovate in addressing the decline in foreign tourist arrivals due to the coronavirus outbreak.
"I invite the PHRI and all stakeholders in the field of tourism to innovate," Vice President Amin noted in his remarks at the National Conference of the Indonesian Hotel and Restaurant Association (PHRI) in Karawang, West Java, on Monday.
The vice president highlighted the efforts or innovations to be made including developing strategies to boost the number of domestic tourists as the backbone of the hotel industry.
Moreover, the other areas of focus encompass utilizing the idle capacity of hotel facilities during the low season; packaging hotel promotion packages with conventions, activities, or attractions that are of interest to the public, governmental, non-governmental, and business entities, as well as the community, in addition to using digital platforms for promotion, and so on.
On the occasion, PHRI chairperson Hariyadi Sukamdani noted that tourism businesses agreed to encourage domestic tourism to respond to the decline in foreign tourists due to the impact of the coronavirus outbreak by launching the program of Wonderful Indonesia Visit (ViWI), Nusantara Shocking Deal 2020.
The Nusantara Shocking Deal 2020 was a program initiated to boost national tourism this year.
Vice President Amin fully supported and highly lauded the PHRI and tourism partners for the launch of the 2020 Nusantara Shocking Deal.
The vice president also expressed optimism and prayed that the PHRI National Conference would produce strategic recommendations in a bid to support the development of Indonesian tourism.
The Central Statistics Agency (BPS) had earlier recorded 16.11 million foreign tourist arrivals to Indonesia all through 2019, or fell short of the targeted 18 million visits set by the Tourism and Creative Economy Ministry.
The figure of 18 million visits is a revision from the earlier target of 20 million foreign tourists.
"The number of foreign tourists visiting was recorded at 16.11 million in 2019 as compared to 15.81 million visits in 2018, or a slight increase of 1.82 percent. Hence, we yet have homework to do to boost the arrival of foreign tourists to Indonesia," BPS head Suhariyanto noted in Jakarta, on Monday.
The number of foreign tourist arrivals comprise visitors coming in through the airport entrance, reaching 9.83 million; 4.16 million via seaport entrances; and 2.11 million by road, he remarked.
In 2019, the highest percentage increase of 14.16 percent was recorded in the number of foreign tourists coming from the US region as compared to that recorded during the corresponding period in the previous year, he pointed out.
Meanwhile, foreign tourist arrivals from the Asian region clocked the largest percentage drop of 10.3 percent.
Most foreign tourists visiting Indonesia in 2019 were from Malaysia, with 2.98 million visits, or 18.51 percent; followed by China, 2.07 million visits, or 12.86 percent; Singapore, 1.93 million visits, or 12.01 percent; Australia, 1.39 million visits, or 8.61 percent; and Timor Leste, 1.18 thousand visits, or 7.32 percent.
Related news: BPS projects coronavirus outbreak to dent foreign tourist arrivals
Related news: BPS records 16.11 million foreign tourist arrivals in 2019
EDITED BY INE