PEMODELAN SISTEM PENGUSAHAAN WISATA ALAM DI TAMAN NASIONAL GUNUNG CIREMAI, JAWA BARAT (Modelling of Nature Tourism Management System in Gunung Ciremai National Park, West Java) | Yuniarsih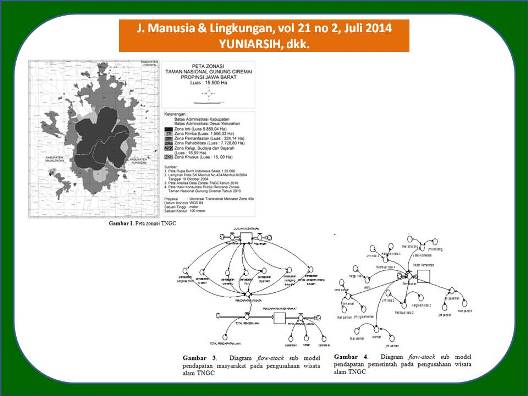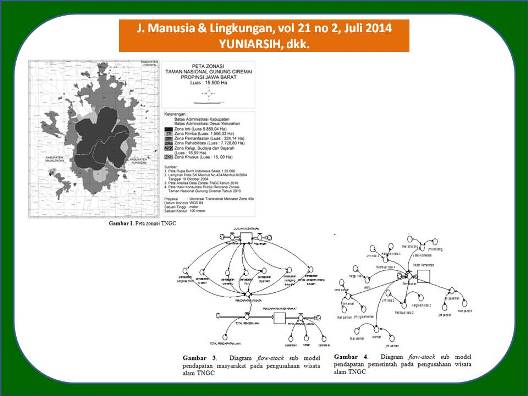 PEMODELAN SISTEM PENGUSAHAAN WISATA ALAM DI TAMAN NASIONAL GUNUNG CIREMAI, JAWA BARAT (Modelling of Nature Tourism Management System in Gunung Ciremai National Park, West Java)
https://doi.org/10.22146/jml.18547
Ai Yuniarsih(1*), Djoko Marsono(2), Satyawan Pudyatmoko(3), Ronggo Sadono(4)
(1)&nbspBalai Diklat Kehutanan Kadipaten, Jl Raya Timur Sawala Kotak Pos 11 Kadipaten 45452
(*) Corresponding Author
Abstract
ABSTRAK
Pemanfaatan sumber daya alam taman nasional yang terbatas untuk wisata alam dan jasa lingkungan memerlukan perencanaan yang cermat sehingga tujuan konservasi dan tujuan sosial ekonomi dapat tercapai. Oleh karena itu tujuan penelitian ini adalah untuk membangun model pemanfaatan sumber daya alam TNGC yang dapat memenuhi tujuan ekologi dan tujuan sosial-ekonomi. Metode penelitian yang digunakan adalah Analisis Sistem Dinamik dengan perangkat lunak STELLA 9.02. Berdasarkan kajian sebelumnya pengusahaan wisata alam merupakan program pemanfaatan pilihan masyarakat dengan prioritas tertinggi. Hasil simulasi sesuai kondisi saat ini menunjukkan bahwa apabila tidak ada perubahan pada variabel kunci pada sepuluh tahun yang akan datang maka terjadi peningkatan dalam hal jumlah wisatawan, pendapatan masyarakat dan pendapatan pemerintah, dengan luas tutupan hutan hanya sampai sebesar 46,63 % dari luas TNGC. Pada simulasi dengan skenario pengembangan terjadi peningkatan secara signifikan dalam hal jumlah wisatawan, pendapatan masyarakat dan pendapatan pemerintah, dengan tutupan hutan mencapai 68,64 % dari luas TNGC. Model pengusahaan wisata alam ini sangat dipengaruhi oleh peran stakeholders dalam pengelolaan promosi wisata alam, kegiatan restorasi, pengamanan TNGC untuk menekan gangguan hutan, peningkatan kualitas objek-objek wisata alam, dan sarana jalan akses menuju objek wisata alam, peningkatan kapasitas dan kompetensi sumber daya manusia taman nasional, serta peningkatan partisipasi masyarakat dalam kegiatan pengusahaan wisata alam.
ABSTRACT
The utilization of national park's natural resources which is limited on nature tourism and environmental services needs proper management plan that can meet the ecological goal and socio-economical goal. Therefore this research aimed to build the model of Gunung Ciremai National Park (TNGC) natural resources utility development which could reach the ecological's goal and socio-economical's goal. Method used in this research was Dynamic Sistem Analysis with STELLA 9.02 software. Based on the previous study, nature tourism management was the prioritized activity chosen by the community. Result of the simulation based on the recent condition showed that if there was not change in key variables for the next ten years, there was increase in tourist number, community income and government income, but decrease in forest cover which only reached 46.63 % of the TNGC area. Simulation with development scenario showed the significant increase in tourist number, community income and government income and the forest cover reached 68.64 % of TNGC area. The nature tourism management model was very influenced by stakeholders' role, especially in managing promotion, restoration, forest protection, tourism site quality improvement and accesibilities, improving TNGC's human resources capacity and competency, and increasing community participation in the management.
Keywords
taman nasional; wisata alam; model; skenario; pemanfaatan; national park; nature tourism; model; scenario; utilization
References
Alikodra, H.S., 1987, Manfaat Taman Nasional bagi Masyarakat di Sekitarnya, Media Konservasi 1(3):13-19. Anonim. 1998a. Peraturan Pemerintah RI Nomor 68 Tahun 1998 tentang Kawasan Suaka Alam dan Kawasan Pelestarian Alam. Jakarta. Anonim. 1998b. Peraturan Pemerintah RI Nomor 59 Tahun 1998 tentang Tarif atas Jenis Penerimaan Negara Bukan Pajak yang Berlaku pada Departemen Kehutanan dan Perkebunan. Jakarta. Anonim. 2012. Keputusan Direktur Jendral Perlindungan Hutan dan Konservasi Alam Nomor: SK.171/IV-SET/2012 tentang Zonasi Taman Nasional Gunung Ciremai Kabupaten Kuningan dan Kabupaten Majalengka Propinsi Jawa Barat. Jakarta. Anonim. 2014. Kronologis Perkembangan Wilayah Kerja Panas Bumi Gunung Ciremai. website://www.esdm.go.id, diakses tanggal 01 April 2014. Cheung, H. 2012. Tourism in Kenya's National Parks: A Cost-Benefit Analysis. Journal of SURG 6 (1):56-58. Fandeli, CH. 2001. Perencanaan Kepariwisataan Alam. PT Perhutani Persero dan Fakultas Kehutanan UGM, Yogyakarta. Farrel, B.H. dan Twining-Ward, L. 2005. Seven Steps towards Sustainability: Tourism in The Context of New Knowledge. Journal of Sustainable Tourism 13 (2): 109-122. Framke, W. 2002. The Destination as a Concept: A Discussion of Business-related Perspective versus The Sosio-cultural Approach in Tourism Theory. Scandinavian Journal of Hospitality and Tourism, 2 (2):92-108. Grant, W.E., Pedersen, E.K., Marin, S.L. 1997. Ecology and Natural Resource Management:System Analysis and Simulation, John Wiley & Sons, Inc, New York. Gunn, C.A. 1994. Tourism Planning: Basics, Concepts, Cases (3 ed.).Taylor and Francis, Washington, D.C Haryono, M. 2010. Model Pengembangan Pengelolaan Taman Nasional Secara Terintegrasi: Studi Kasus Pengelolaan Berbasis Ekowisata di Taman Nasional Bukit Tigapuluh Propinsi Riau dan Jambi. Disertasi. Sekolah Pascasarjana IPB, Bogor. Mai, T.V. dan Bosch, O.J.H. 2010. Systems Thinking Approach as a Unique Tool for Sustainable Tourism Development: a Case Study in The Cat Ba Biosphere reserve of Vietnam. School of Integrative Systems, The University of Queensland, QLD 4343, Australia. Noerdjito, M. dan Mawardi, S. 2008. Kawasan Lindung Gunung Ciremai dan Kemungkinan Pengelolaannya. Jurnal Biologi Indonesia 4(5): 289-307. Purnomo, H. 2003. Model Dinamika Sistem untuk Pengembangan Alternatif Kebijakan Pengelolaan Hutan yang Adil dan Lestari. Jurnal Manajemen Hutan Tropika 9(2):45-62. Purnomo, H. 2005. Teori Sistem Komplek, Pemodelan, dan Simulasi. Fakultas Kehutanan, IPB, Bogor. Saaty, T.L. 1986. Decision Making For Leaders-The Analytical Hierarchy Process for Decisions in Complex World. University of Pittsburgh:RWS Publication. Schianetz, K. dan Kavanagh, L. 2008. Sustainability Indicators for Tourism Destinations: A Complex Adaptive System Approach using Systemic Indicator Systems. Journal of Sustainable Tourisms 16(6):601-628. Suratmo, F.G. 2002. Panduan Penelitian Multidisiplin. IPB Press, Bogor. Zuhriana, D. 2012. Pengembangan Sosial Ekonomi Masyarakat Daerah Penyangga Taman Nasional Gunung Ciremai. Disertasi. Sekolah Pascasarjana IPB, Bogor.
DOI:
https://doi.org/10.22146/jml.18547
Article Metrics
Abstract views : 1727 |
views : 1079
Refbacks
There are currently no refbacks.
Copyright (c) 2017 Jurnal Manusia dan Lingkungan
JML Indexed by: