European tourists cancel trips to West Java, fear transit in virus-hit Singapore: ASITA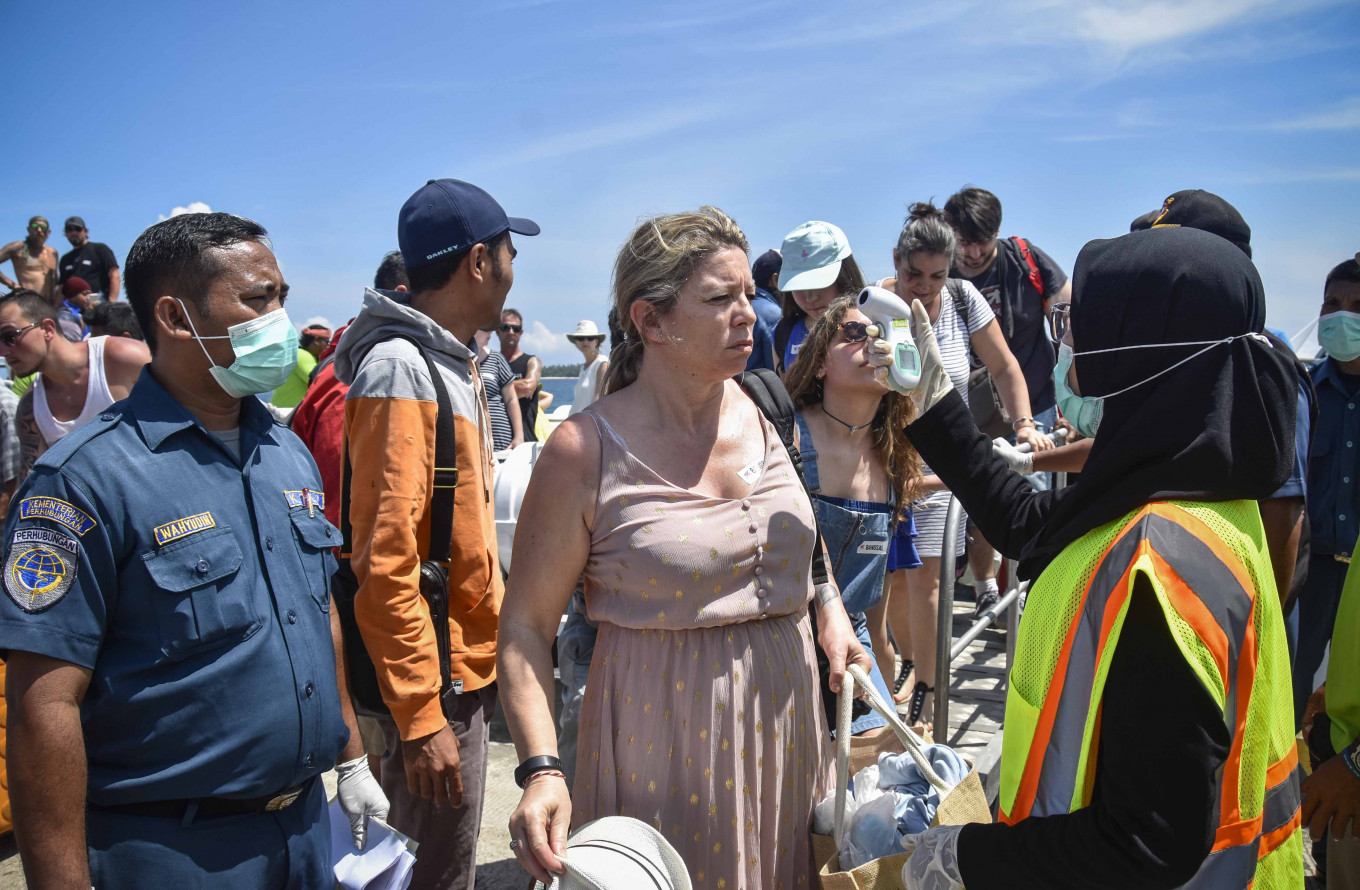 Fears over the Wuhan coronavirus outbreak have affected tourism in West Java, with a number of European tourists reportedly canceling their trip to the province.
According to the West Java chapter of the Association of Indonesian Tours and Travel Agencies (ASITA), European tourists have expressed concerns over the new coronavirus as the pneumonia-like disease has spread from China to Indonesia's neighboring countries.
"Singapore has recorded confirmed cases of [the coronavirus], while their flights [to Indonesia] are supposed to transit in Singapore," ASITA West Java chapter head Budijanto Ardiansjah said on Friday as quoted by kompas.com.
"Some European tourists have canceled their trips. They asked for confirmation whether Indonesia is safe [from the virus] or not and they have decided to postpone their visits until the outbreak subsides."
He declined to reveal just how many tourists have canceled their plans. 
In line with recent government policy, airlines have suspended their flights to and from China in response to the outbreak, subsequently affecting the visit of Chinese tourists, one of the largest contributor of foreign tourist arrivals in Indonesia. 
The ASITA Bali chapter previously said that thousands of Chinese tourists had canceled their trips to Bali in the wake of the virus outbreak, which has killed more than 1,300 and spread to nearly 30 countries since it first emerged in the city of Wuhan in late December last year.
Indonesia has no confirmed cases of the new coronavirus so far, though its neighboring countries have reported multiple positive diagnoses. Singapore, for instance, has confirmed that 67 people have been infected in the city-state as of Friday, The Strait Times reported.
The cancelations came amid the West Java administration's efforts to attract more European and American tourists to the province, which has a number of famous destinations such as the provincial capital of Bandung as well as Ciwidey regency. 
According to Statistics Indonesia (BPS), a total of 1,565,200 European tourists visited Indonesia from January to September last year. The number showed a slight decline compared to the same period in 2018 when 1,566,900 Europeans visited the country. 
Budi conceded that West Java was still less enticing compared to Bali, saying that only 8 to 10 percent of tourists from Europe visiting Indonesia included West Java in their itineraries. 
He said West Java was still lacking in promotion despite the beauty of its nature and culture, which had become the main attractions for European tourists, including those from the Netherlands, Germany and Belgium.
"European tourists are different from Asian tourists. Asian tourists like shopping, while Europeans are more into nature and the culture," Budi said. 
ASITA has been mulling over strategy to attract more European tourists to visit West Java before going to Bali, such as by encouraging them to take trains from Jakarta to Bandung or to drop by Puncak in Bogor before continuing to Yogyakarta or Bali. (gis)