13 Places To Visit In Bandung To Experience Its Beauty In 2020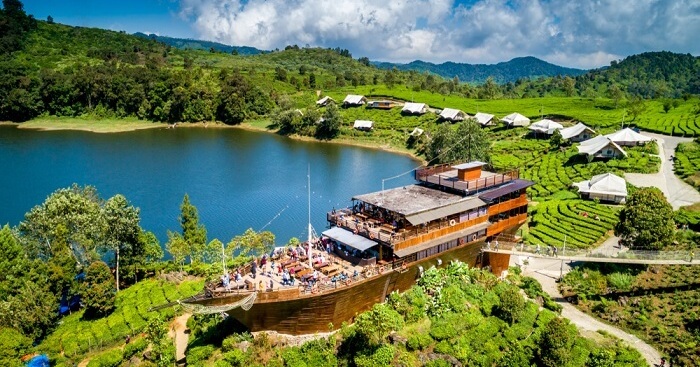 Known for its tea plantations and volcanoes, Bandung is a spectacular city in Indonesia that attracts thousands of tourists from all over the world every year. It is easy to see why the city is a popular destination.
It has a rich history and culture with countless historical sites that showcase the unique architectural style it is famous for. Sightseeing is a pleasure as there are countless Bandung tourist attractions for you to discover and explore. With so many things to do and places to visit in Bandung, you are sure to have an incredible time in the vibrant city of Bandung.
13 Places To Visit In Bandung
This wonderful city of West Java is also known as the 'Paris of of Java', due to its resemblance to Paris and European atmosphere. Locally called, Kota Kembang, literally meaning the Flowery City, Bandung will leave your mesmerizing with its breathtaking beauty. Find some of the best places to visit at Bandung on this list.
Lembang
Teabing Keraton
Situ Patenggang
St. Peters Cathedral
Bandung Institute of Technology
Museum of The Asian-African Conference
Bandung Treetop Adventure Park
Bandung Historical Park
Keraton Cliff
Kawah Putih
Bandung Zoo
Jean's Street
Museum Geologi
1. Lembang
A tranquil place in West Bandung, Lembang is blessed with an abundance of natural wealth and pleasant weather. It's one of the most beautiful places to visit in Bandung, Indonesia. The cool climate and fresh air are what makes this region ideal for agricultural plantations. Lembang has many trendy little caf-s where you can take amazing pictures to share on social media. Check out Lereng Anteng Panoramic Coffee Place, one of the most Instagrammable caf-s. Its trademark is its outdoor area, where you can sit inside a clear tent and take in the amazing mountain views while you enjoy your cup of coffee.
Address: Lembang, West Bandung Regency, West Java, Indonesia
Highlights: Clear tents in the outdoor area for customers to enjoy the mountain view while sipping on a delicious cup of coffee
Bali Holiday Packages On TravelTriangle
Stay at luxurious private pool villas and resorts, Experience thrilling water sports – parasailing, scuba diving, and snorkeling – or take a sunset dinner cruise. Get best holiday deals for Bali offered only by TravelTriangle.
2. Teabing Keraton
At 1200 m above sea level, Teabing Keraton is one of the most ideal places to visit in Bandung for the most beautiful view of the sunrise. You will also be awe-inspired by the view of misty clouds floating over the mountains. When you are in Teabing Keraton, the best thing you can do is find a spot, breathe deeply and relax, and admire the magnificent view of Bandung and its surrounding areas something that very few places have to offer.
Address: Lembang, Ciburial, Cimenyan, Bandung Barat, Jawa Barat 40198, Indonesia
Highlights: A great vantage point for viewing the city of Bandung and the majestic mountains
Must Read: 10 Best Hostels In Bali That'll Ensure You Spend Less And Experience More!
3. Situ Patenggang
If you are in South Bandung, you should make sure to visit Situ Patenggang. This lake is a popular place of interest in this part of the city among tourists and locals alike. One of the best things about going on a trip to Situ Patenggan is the scenic route, with numerous strawberry farms and tea plantations along the way. Everywhere you look, you will see lush green natural surroundings! Once you arrive at the lake, you will find many beautiful boats in bright, vibrant colors. You can go on a boat ride around the lake or pick a spot to sit and enjoy the beauty and serenity of this beautiful locale. Situ is among the most scenic places to go in Bandung with family and friends.
Address: Jalan Raya Patengan (Ciwidey), Bandung, West Java, Indonesia
Highlights: Bright and beautiful boats that can take you on a ride around the lake
4. St. Peters Cathedral
An important landmark of the city, St. Peters Cathedral is one of the most famous Bandung tourist attractions. Located in the heart of the city, the church, officially names Katedral Santo Petrus, is known far and wide for its unique architecture. It was designed by Wolff Schoemaker in Neo-gothic style. If you are interested in photography, St. Peters Cathedral is a great place to take some interesting and beautiful pictures. The perfect time to take amazing photos is in the afternoon before the sun sets. The light hits the cathedral, giving its fa-ade a stunning effect. The interior is small but just as impressive as the exterior and has a great atmosphere you can immerse yourself in.
Address: Jl. Merdeka 14, Babakan Ciamis, Bandung 40117, Indonesia
Highlights: Striking Neo-gothic architectural style
Suggested Read: 7 Best Bali Luxury Resorts Where You Can Experience The True Balinese Life
5. Bandung Institute of Technology
Established in 1920, the Bandung Institute of Technology (also known as Institute of Technology, Bandung or ITB) is the oldest technology-oriented university in Indonesia. It has a beautiful campus with countless trees throughout, giving students a shady spot to study, read, etc. It is a great place to relax and chill. ITB is a historical building that is worth exploring. When you go on a Bandung sightseeing trip, make sure to include Bandung Institute of Technology to your list of places to see.
Address: Jl. Ganesha No. 10, Lb. Siliwangi, Coblong, Kota Bandung, Jawa Barat 40132, Indonesia
Highlights: The expansive environmentally friendly campus; the historical building
Planning your holiday in Bali but confused about what to do? These Bali travel stories help you find your best trip ever!
Real travel stories. Real stays. Handy tips to help you make the right choice.
6. Museum of The Asian-African Conference
No matter which place you are visiting, one of the best things to do is to explore its museums. One of the most interesting places to see in Bandung is the Museum of The Asian-African Conference, which is dedicated to the Bandung Conference of newly-independent African and Asian states in 1955. It is an informative museum and an important building for a world-changing event. The Museum of The Asian-African Conference gives you a glimpse of history and is a superb place to visit during your stay. If you are visiting Indonesia during the best time to visit Bandung, you will surely capture lifetime memories here.
Address: Jl. Asia Afrika No. 65, Bandung 40111, Indonesia
Highlights: Provides information about a world-changing event; Original furniture and other items
Suggested Read: 6 Best Water Parks In Bali For A Fun Day Out With Your Loved Ones
7. Bandung Treetop Adventure Park
If you are wondering what to see in Bandung with your family, one of the best places for everyone to enjoy is Bandung Treetop Adventure Park. You can engage in a number of outdoor activities, like the Flying Fox challenges, which range in difficulty based on the visitors age. It is unique from other places in the city as it offers adventure and excitement in the great outdoors. This is definitely one of the most thrilling places to visit in the city when you are traveling with family or a group of friends.
Address: Jl Bumi Perkemahan Cikole, Lembang, Bandung, Indonesia
Highlights: Fun and exciting activities for visitors of all ages (starting 4 years old)
Suggested Read: Mauritius Vs Bali: Find Out Where To Head For Your Next Vacay!
8. Bandung Historical Park
Another one of the most interesting Bandung tourist places is Bandung Historical Park. If you want to learn more about the city's history, this is the perfect place to go. It is a great place to go with the family. The park has a pool for children so you can let your little ones play as you read and relax. You can also explore the small but well-maintained gardens of Bandung Historical Park. This is a great place to relax while learning about the city and its rich past.
Address: Jl Aceh no. 53 Babakan Ciamis, Sumur Bandung, Kota Bandung, Jawa Barat 40117, Indonesia
Highlights: A mini pool for children; Well-kept gardens
Address: Jl Aceh no. 53 Babakan Ciamis, Sumur Bandung, Kota Bandung, Jawa Barat 40117, Indonesia
Highlights: A mini pool for children; Well-kept gardens
Suggested Read: 10 Best Restaurants In Bali For Delicious Food And Sun-Soaked Memories
9. Keraton Cliff
This is a famous spot in Bandung that draws a large number of crowds every year. Keratin Cliff is famous for the spectacular views it offers. It is an excellent vantage point to see the city and the lush green landscape that surrounds it. The road leading to the cliff is quite damaged, making it a little tough to get there. But once you arrive, you will find that it is well worth the trip as you take in the views you can only get from this point. If you are in Bandung, do not miss making the trip to Keraton Cliff. Don't forget to visit Bandung on your next trip to Indonesia.
Address: Bukit Dago Pakar, Bandung, Indonesia
Highlights: Stunning views of Bandung and its surrounding areas
10. Kawah Putih
Another popular tourist attraction, Kawah Putih is one of the most phenomenal places to visit in Bandung. Located in South Bandung, Kawah Putih is a mystical place with a tranquil atmosphere. It is a sulphuric lake that looks absolutely amazing with large rocks on its shore and lush green hills. Kawah Putih is surrounded by the craters high walls. This is the perfect place to go when you want to refresh your mind and soul and feel reinvigorated and ready to take on the next sightseeing trip. This is one of the best Bandung places of interest.
Address: Jl. Raya Soreang Ciwidey, Sugihmukti, Pasirjambu, Bandung, Jawa Barat 40973, Indonesia
Highlights: Magnificent scenery offers the perfect place for photo ops; Mystical atmosphere offers a great place to refresh your mind.
11. Bandung Zoo
Bandung Zoo also known as Bandung Zoological Gardens or Kebun Binatang Bandung is located in Bandung city in West Java, Indonesia. It is widely spread in the area of 14 hectares and offers numerous activities within it premises. Bandung Zoo is very popular among the local residents of Bandung city and is one of the most popular tourist attractions. The zoo really enthralls its visitors as it has something exciting for people of all age groups. Tourists enjoy boat rides, camel rides, elephant rides etc. here and you can easily encounter some interesting spots for clicking selfies and group photographs. Bandung zoo has an animal theatre, Mosque, playground and train rides for kids.They also have a food court offering scrumptious local delicacies.
Address: Jalan Zoo No.6, Lebak Siliwangi, Coblong, Bandung City, West Java
Highlights: Playground for kids, Boat rides, Train rides, Mosque, Camel ride, Elephant ride and Food court.
12. Jean's Street
Jean's street is one of the most popular tourist spots in Bandung. It is also known as the Boulevard of denim. Jean street is the nickname of this denim boulevard which was originally named as Jalan Cihampelas. It is located in the north of Bandung city centre and the owners of this market are known for using attractive ways to keep their clients entertained. You can find figures of super heroes like Superman, Spider-man and numerous other famous movie characters like Alladin-Jasmine and Rambo here. Tourists find it very attractive to spend a day at this street.
Address: Jl. Cihampelas No. 66/ 25, Rt. 03/ Rw. 09, Cipaganti, Kecamatan Coblong, Kota Bandung, Jawa Barat 40131, Indonesia
Highlights: Super hero collections, lively ambiance
13. Museum Geologi
Geological museum of Bandung, Indonesia is a heaven for museum lovers or travelers who are interested in looking at previous years. Geological museum was opened in the year 1928 and comprises some of the rare remains of the meteorite, which stricked the land of West Java, especially, Sindanglaut in 1871. The remains of the meteorite are very rare and are called LL6 chondrite.
Address: Jl. Diponegoro No.57, Cihaurgeulis, Kec. Cibeunying Kaler, Kota Bandung, Jawa Barat 40122, Indonesia
Highlights: Museum holds the remains of a rare meteorite fall of 1871.
Further Read: 10 Best Things To Do In Nusa Dua: An Oasis Of Luxury & Good Times!
Bandung is an incredible city in Indonesia that offers visitors numerous sights and attractions to explore and enjoy. From natural spots to museums to adventure parks, the city has something for everyone. If you are travelling to Indonesia , especially to Bandung, make sure that you visit the ten most amazing attractions and experience all that the beautiful city has to offer.
Frequently Asked Questions About Places To Visit In Bandung
Q. What is Bandung known for?
A. Bandung is the capital of West Java Province of Java Island in Indonesia. This city is known for its striking landscapes spanning volcanoes and tea plantations. Located at an elevation of 768 meters above the sea level, Bandung experience a pleasant tropical climate. Its infrastructure is characterized by colonial and artistic architectural style. The Dago district in Bandung is a shopping hotspot with several fashion outlets. It has a lively vibe with cafes, restaurants, boutiques and shops.
Q. What can we do in Bandung?
A. Bandung is a city with unique landscapes, offering a variety of things to do. There are several things to do in Bandung including:
1. Shopping in factory outlets at Jalan Riau and Jalan Dago
2. Attend a music performance at Saung Angklung Udjo
3. Explore the Sundanese cuisine
4. Swing in an adventure hammock in Tebing Gunung Hawu
5. Take a Bandros double-deck bus tour
6. Wall-climb at The Eiger Flagship Store
7. Watch a show at Saung Angklung Udjo
8. Indulge in activities at Dusun Bambu Leisure Park
9. Witness a mini Europe at Kota Mini
10. Visit the Hobbit house at The Farm House
11. Enjoy an orinetal experience at Chinatown
Q. What can you do in Bandung for one day?
A. Bandung is full of mind-blowing travel experiences. But if you have just one day to explore Bandung, here are some unmissable things to do in Bandung:
1. Visit the crater of Tangkuban Perahu, an active volcano
2. Relish Sundanese cuisine
3. Quick shop at Jalan Riau and Jalan Dago
4. Visit the unique Kawah Putih lake
Q. What is there to do in Bandung at night?
A. Here are some of the things that you can do in Bandung at night to make the most of your vacation in this Indonesian City:
1. Enjoy some live music at the Bandung bars like Troy's, La Baraga, or Holywings
2. Eat street food at Sudirman Street, Cibadak, or Jalan Setiabudi
3. Sip some tasty local and international beer at Beer Garden, Beerpoint, Wodka, or Tambuhak
4. Pamper yourself by a spa treatment
5. Enjoy a karaoke night at Diva, Nav or Studio Ciwalk
6. Groove to the DJ music at Malmo, Sobbers, or Nine Square
Q. How many days do you need in Bandung?
A. One would need at least 4 to 3 days are to explore Bandung.
People Also Read:
Places To Visit In Yogyakarta Places To Visit In Jakarta Places To Visit In Kintamani
Looking To Book An International Holiday?
Book memorable holidays on TravelTriangle with 650+ verified travel agents for 65+ domestic and international destinations.
Comments
comments